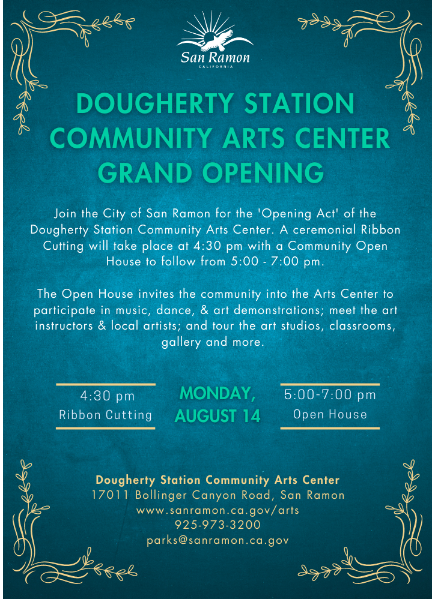 The Dougherty Station Community Art Center, built in 2005, is undergoing renovation and will reopen with an arts focus on Monday, August 14, 2023.   The renovated Arts Center will be the hub of arts and culture in San Ramon featuring visual and performing arts classes, programs, and workshops. The Arts Center will also host special events, performances, and workshops for our arts patrons and students.
Upcoming Community Art Workshops: 
As the Dougherty Station Community Arts Center facilities open, a series of free and low-cost workshops in theater, music, visual arts, and dance will be provided by contract instructors. There are 24 community workshops scheduled between the opening of the facility and the start of the Fall Recreation classes. These workshops, sponsored by San Ramon Arts Foundation, for a variety of ages, will provide a sampling of the classes offered starting in September.
*Registration is required for all workshops at: SanRamonRecGuide.com
See the August Worskshop Calendar DSCAC (1).pdf