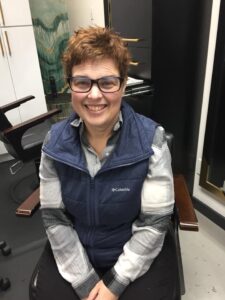 Our beloved Nicole Blazin passed on June 11, 2020 in the midst of the pandemic and at a time that there was no way to gather and mourn the loss of one of San Ramon's brightest stars. Nicole, who served the San Ramon Community for 18 years was a super hero in the Parks and Community Services Department and could do anything, do it lightning fast and with absolute accuracy and artistic flare. She was the creative genius behind so many initiatives, marketing materials and events. Her distinctive laughter, positive attitude and welcoming warm personality drew people in and motivated them to be better employees and better human beings. In addition to being a great City employee, she was also an amazing Mother, Daughter, Sister, Aunt, Niece, Cousin and Friend. Anyone who knew Nicole knows she would drop everything to help you if you needed it. She was a great listener and a great advisor with a huge heart and a willingness to give her time selflessly.
To create a permanent memorial to Nicole, her family and City staff would like to purchase a painting titled "Antiquity" by Diane Goldstein, a local artist and display it on the wall right outside the Fountain room at the San Ramon Community Center with a plaque honoring Nicole's memory and contributions.
Nicole loved art and had a passion for a variety of artistic interpretations that led her on her final and unforgettable trip to Paris with her family just a year before she passed. The style of "Antiquity" is what we think Nicole would have picked. Please donate to our fundraising page, which will fund the art's purchase and framing, creating a plaque and a reception to unveil the art and gather to share memories of our beloved Nicole.
The San Ramon Arts Foundation has kindly offered to help collect these funds as a non-profit 501C3 organization. The amount we are hoping to raise is $7,000.

Any donations collected that exceed the expenses of the purchase of the painting, framing and painting reception will go to the San Ramon Parks and Community Services Scholarship Fund in Nicole's name.

Thank you for helping honor Nicole's memory. By donating, we will be more than happy to let you know when the gathering to unveil the artwork and honor Nicole is.